DOWNLOAD | INTRODUCING CONTRACT MANAGEMENT IN YOUR COMPANY(the easy way)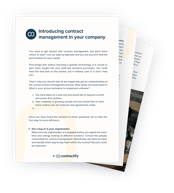 There is a variety of contract management softwares out there. So how do you make the right chose... without spending too much time on it? That is exactly what you will learn in this guide. It will help you:
Make sure you do not miss any valuable steps in the decision-making process

Come to the right solution for your business' needs
Fill in your details and get direct access to the guide. Want to read it later on? We've got you covered with an extra copy in your mailbox. Good luck finding the right fit!