DOWNLOAD | FREE CONTRACTS CHECKLIST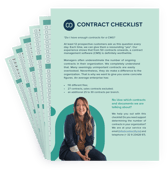 You might think you do not have enough contracts for a contract management system. That is exactly what this contract checklist is all about. It helps you:
get a grip on how many contracts there really are in your business
find out what types of contracts you should look for
regain an overview of all contracts
Fill in your details and get direct access to the guide. Want to read it later on? We've got you covered with an extra copy in your mailbox. Happy checking!