DOWNLOAD | "CONTRACTS ARE THE NEW GOLD"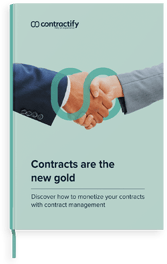 In this guide, we take you on a discovery on how to make your contracts more profitable. Do you want to
learn what situations are costing you money & how to solve them?

find out what contract management solution fit your business?

get a couple of tools to get you started with contract management in no time?
Fill in your details and get direct access to the guide. Want to read it later on? We've got you covered with an extra copy in your mailbox. Happy reading!